Donate a Desk
Most primary school children in Ifakara sit on hard and uncomfortable dusty floors

Could you imagine having to sit on a hard dusty floor for several hours a day whilst trying to learn your ABC's and 123's? No? Nor could we. With no desk to place your school book to write in, just balancing it on your knee....
Mrs Malunda, a teacher from Mapinduzi primary school says:
'I want to be in a class room with good desks and chairs so I can help provide a high standard of education to all my students. I want to them to be able to learn in a happy and comfortable environment. Who knows...maybe I will be teaching a future president!'
Walter, a student of Mapinduzi primary school tells us:
'When I am older I want to be a doctor. Doctors study for many years. I know I will need to spend a long time in many classrooms. We need desks & chairs to help improve our very first learning experiences'
Help these dreams to become a reality. Let us convert the pounds and dollars into desks and chairs to create the learning environment all children deserve
Empowering youth for a bright future
Give a little. Help a lot
Help us reach our £5000 target to get desks and chairs locally made in Ifakara for 4 class rooms at Mapinduzi Primary school for 160 children with four accompanying teachers. Every pound helps.
£50 buys a desk & bench for three children
£75 buys a teachers chair & desk
£150 buys a teachers black board, desk & chair
Thanks for helping us pick the kids up….off the floor!
So far, thanks to our supporters help, we have raised a whopping £2000 which has allowed us to get 30 desk/chair sets and three teachers' desks and chairs. All locally made in Ifakara. So we are also supporting the local small businesses in the community. Ninety primary school children and three accompanying teachers got the support they needed.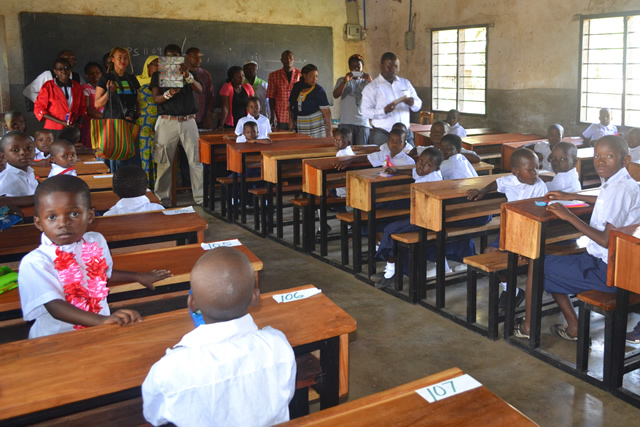 Meet the Welder and Carpenter
When we first saw the desks piled high in a storage room in Ifakara, we were and thinking....Wow...We have all made this happen! The kids can finally get off the floor and sit at desks. Andrea chats to the men who made the desks and Ferdinand our guy who coordinated on the ground!