Education Tanzania
Educational support for children living in communities affected by HIV & Malaria
In 2010, 68,000 children dropped out of primary school, and 66,000 children left secondary school early. With one of the highest net enrolment ratios in Africa, there is much potential to empower Tanzanian children and adolescents, helping them to attain the education necessary to break the cycle of poverty (Elizabeth Nutt- TheBorgen Project)
Even though primary school in Tanzania is free from the ages of 7 to 12 for classes' standards 1 to 4, many children do not attend due to a number of reasons including: poverty- not being able to afford uniforms and learning supplies, traditional practices bias against girls' education, being expected to carry out house hold and family chores and living too far away.
Children cannot attend primary school without a uniform and shoes. Children who show up without the appropriate uniform and shoes are punished and turned away. This is why we need your help
Thanks to you, our supporters we raised over £1000 last year. We were able to provide uniformsfor 50 children due to start standard one at Mapinduzi primary schoolearlier this year. Thanks also goes out to those that donated over 50 pairs of shoes, numerous pairs of socks, underwear and learning supplies for these new starters.
With one click "give a child a future"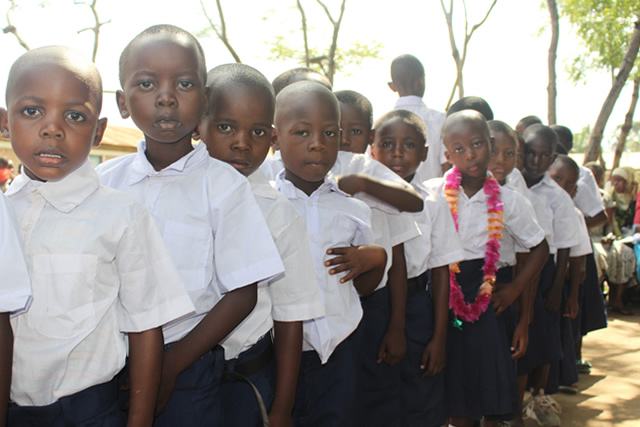 Standard 1 new starters in their new uniforms. Your help will continue this. Thank you.
How will my donation help children?
£20 buys a child's uniform for a year
£2.50 buys a child a pair of school shoes
£2.50 buys a set of exercise writing books
£2.00 buys a pencil case complete with pens, pencils, erasers, sharpener and ruler.
Ready to help children in Tanzania with their education needs? Donate through our Just Giving page.
Child Aid Tanzania goes to Mapinduzi Primary School
We have personally visited the school and presented the essential requirements to these children in need and their parents and also met with the teachers. See a snippet of how it all went on our last visit:
What a crazy morning!
"We were up at dawn and in the school by 7am to set up. Tanzanian flag coloured bunting was put up and chairs and tables laid out. It was 8am and we were good to go. The MC really added fun and flare to the whole affair. Despite the chaotic frenzy that occurred by the teachers when some of the children had to swap uniforms as they didn't quite fit, or when some of the shoes turned out to be too big or too small, or even when two children with the exact same name came forward to collect one uniform, everything did eventually come together"
Watch us at the end of the morning after we have just presented the children and teachers with the desks and uniforms at Mapinduzi primary school."